Fonda España. The modernist dining-room
At Restaurante Fonda España, Martín Berasategui gets back to the old concept of the fonda (inn) by making a commitment to the most traditional style of cooking, while embracing modernity. In charge of the ovens of Fonda España is the chef, German Espinosa, with years of experience under the guidance of Martín Berasategui.
The restaurant is located in the Modernist dining room originally designed and decorated by Domènech i Montaner, a rich environment of historical value in which the older features enhance and inspire the new.
Chef: Edu Rodas y Rubén MaldonadoMaitre d'Hotel: Nuno Antunes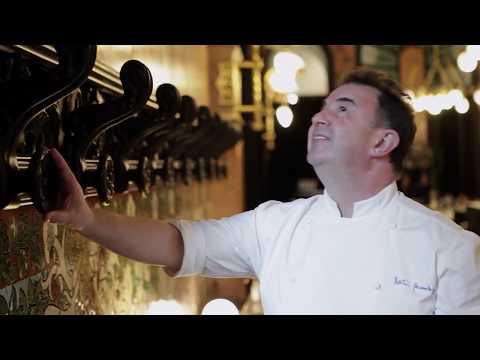 Gastronomy is one of Hotel España's major commitments, with Martín Berasategui as gastronomic manager.
The Restaurant
Special Christmas Openings 2023

We wil be open on the 24th and 31st December for dinner only

25th and 26th December and 1st January for lunch only

We will be closed 6th and 7th December and also 3rd, 4th and 24th January 2024

Wednesday to Saturday from 1pm to 3pm & from 8pm to 10.30pm
Lunchtime Menu Working days 38€
Menú de la Rosa 69€ (drinks not include) - Wine Pairing 35€ - Premium Wine Pairing 49€
Tasting Menu 83€ (drinks not include) - Wine Pairing 40€ - Premium Wine Pairing 55€ (Menu Available until 2:30 pm and 9:00 pm)
Contact
Tel. : (+34) 93 550 00 10
E-mail: fonda@hotelespanya.com
The suggestions of Fonda España
Martín Berasategui
Gastronomic director of the Condes Hotels since 2005, Martín Berasategui has spent 41 years devoted in body and soul to what he loves most in the world: cooking. Today, he is one of the great chefs of the culinary world and holder of 12 Michelin stars, three for his restaurant Martín Berasategui in the town of Lasarte, northern Spain, and three for Restaurante Lasarte at Monument Hotel Barcelona.

A tireless worker and researcher, he is precise with his gestures, prudent with the oven, accurate with the blade, refined in his sense of smell, wily in the market and uncompromising at the stove in his pursuit of perfection. In his style of cooking, he always seeks balance between the best natural ingredients and the cooking process."
Traditional style of cooking with a modern twist. Discover one of the best restaurant´s in Barcelona.
Restaurant Fonda España has been offering unforgettable gastronomic experiences for over 160 years! Prepare to be blown away by the creativity and passion of our world famous gastronomic director, Martin Berasategui and head chef German Espinosa. Our gastronomic gurus are forever creating new dishes based on the old concept of the "fonda" (inn) by making a commitment to the most traditional style of cooking, while embracing modernity. This exquisite style of cooking ties in perfectly with our ornate modernist dining room originally designed and decorated by Lluís Domènech i Montaner during the early 1900s. Allow yourself to experience our 360 degree modernist foodie adventure, embracing all 5 of your senses, from the comfort of one of the best restaurants in Barcelona. Restaurant Fonda España offers one of the best gastronomic gems and a moment of peace, just a few minutes' walk from Las Ramblas. In a modernist and Mediterranean atmosphere, the restaurant Fonda España is the ideal meeting point for locals who love traditional cuisine from Barcelona with a unique twist, but also for international gourmet guests that wish to try the dishes of Michelin star chef Martin Berasategui. After a busy day strolling the length of Las Ramblas, or rushing from meeting to meeting come and enjoy a well-earned exquisite meal. You choose whether you feel like our unique set menu or our a la carte option, both of which have been very carefully put together offering an extensive variety of dishes. Additionally, La Fonda restaurant is centrally located, close to Las Ramblas and a great option for events due to it´s quality, size and location. Whether you are celebrating a family occasion or a professional convention our friendly team will be happy to help you to prepare a tailor made experience, with the best food, service and location.